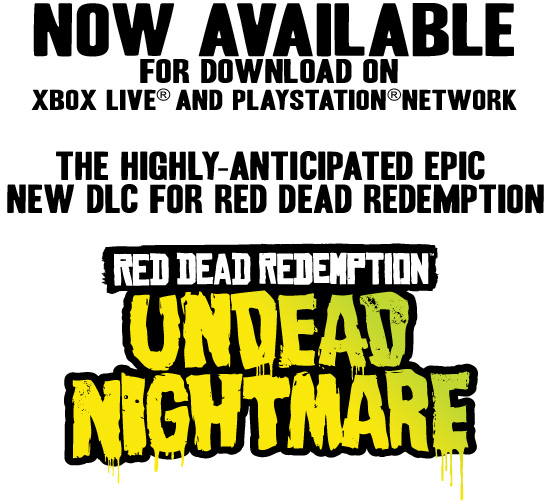 Os fãs dos Red Dead Redemption deve comemorar, foi liberado para download a DLC (Downloadable content) Undead Nightmare, que traz os zumbis para dentro do velho oeste.
Agora nosso pistoleiro John Martson vai andar por um vasto e aterrorizante mundo, e tentar sobreviver tempo suficiente para encontrar a cura e não virar um zumbi (no melhor estilo Resident Evil) que assola a fronteira entre os não-infectados e os mortos-vivos.
Esta DLC traz uma nova roupagem para seu RDR, e pode ser jogado tanto no single-player comom no multiplayer.
Aparentemente, durante a noite, uma praga de zumbis invade a fronteira, dizimando a paisagem e despertando os mortos. Nas cidades, os assentamentos e postos avançados em todo o mundo, os cidadãos não infectados são convocados a lutar pela sobrevivência contra a ondas de mortos-vivos.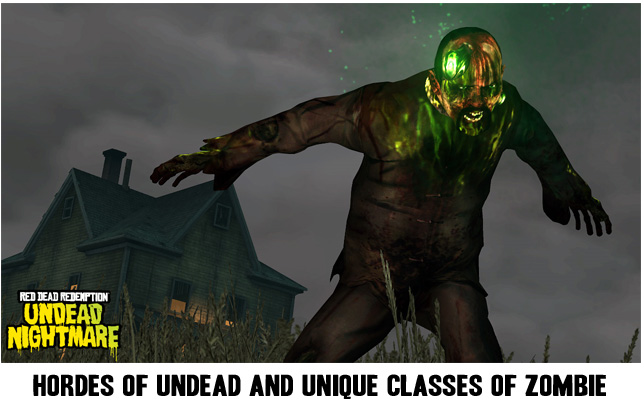 Os zumbis do Red Dead trarão diversão para a gente
São 4 classes de zumbis, com suas características próprias e os animais predadores infectados, deixando o campo aberto muito mais perigoso. As armas também tiverem que ser adaptadas para esta "realidade", como a Blunderbuss, este pacote oferece ainda uma jogabilidade original para os gamers que se aventurem nesta onda.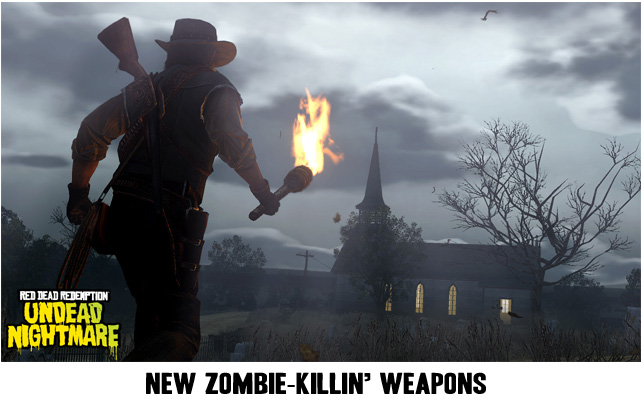 O Undead Nightmare Pack já está disponível para download no Xbox LIVE (800 Microsoft points) e PlayStation Network (9,99 dólares) e requer uma cópia do Red Dead Redemption para jogar. Em breve, deve ser lançado um único disco com o pacote Undead Nightmare e todos as DLCs lançadas até o momento para o Red Dead, como um game of de year.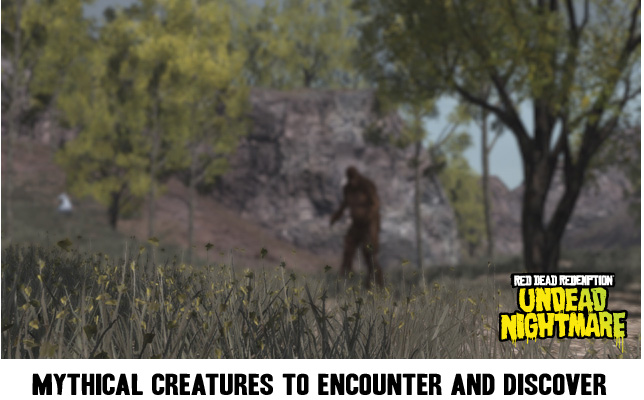 Que porra é essa? Um macado modificado? Um urso?
Texto original extraído do site da Rockstar.
The Undead Nightmare has been unleashed upon the world of Red Dead Redemption, with an entirely new single-player storyline, as well as brand new multiplayer content.
Seemingly overnight, a zombie plague ravages the once bountiful frontier, decimating the landscape and reawakening the dead. In towns, settlements, and outposts throughout the world, the uninfected citizens are left to fight for survival against waves of the undead. John Marston must ride out into the vast and terrifying world and survive long enough to find a cure.
With four unique zombie classes – each with their own characteristics, plus new infected predatory animals roaming the countryside, and non-traditional weaponry like the Blunderbuss – which can be loaded with looted remains of fallen zombies, the Undead Nightmare Pack offers an entirely original gameplay experience for fans of Red Dead Redemption.
The all new single-player narrative features new challenges, quests, and ambient events, including Missing Persons, where the player must find a missing survivor lost amongst the throngs of undead. This new release also brings new content to Multiplayer, with Undead Overrun, a brand new multiplayer survival mode where waves of infected enemies attack and players must work together to stay alive against increasingly difficult odds.
The Undead Nightmare Pack is now available for download from Xbox LIVE (800 Microsoft Points) and PlayStation Network ($9.99) and requires a copy of Red Dead Redemption to play. Also coming soon, Undead Nightmare, a single, stand-alone disc that bundles together for the first time ever, the Undead Nightmare Pack, the Outlaws to the End Co-Op Mission Pack, the Legends and Killers Pack, the Liars and Cheats Pack and all the Multiplayer Free Roam modes released to date.